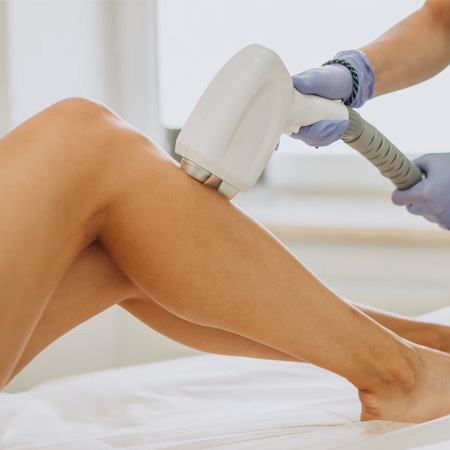 What could be the reasons for my laser hair removal treatment not working?
Many clinics and med spas may not disclose the hard truth that laser hair treatment may not be suitable for everyone. Although the majority of patients can expect a reduction of up to 90% in hair growth or even permanent hair removal with regular treatments, some factors may hinder similar results for a minority of patients.
While laser hair removal is an incredible treatment that works well for most people, it is a precise procedure that requires two important things: the ability to damage hair follicles beyond the point of further hair growth and the ability to do this without damaging the outer layer of skin.
There could be various reasons for laser hair treatments failing to produce optimal results. The most common reason is the pigmentation of the skin and hair, making it difficult for the laser to differentiate between them.
What could be the reasons for laser hair treatment not producing desired results?
Incorrect timing
Correct timing of laser hair removal treatments is crucial for achieving the desired outcome. Insufficient time allocated to each session may result in large areas being left untreated. It's important not to rush the laser hair removal procedure as this may impact the final results. If the laser is passed too quickly over the skin, the energy from the laser will not be absorbed properly. Consequently, you may observe hair growth returning faster in certain areas where patches were missed during treatment.
Type and color of hair
Hair color and type play a crucial role in determining the effectiveness of laser hair removal on a patient. This is because the procedure works by targeting pigmentation in hair follicles. For the laser to burn the follicles, they need to have a dark enough pigmentation relative to the skin.
If the hair follicles have little pigmentation, such as with white, light red, or light blonde hair, it may be challenging for the laser to target them correctly. The laser may also have difficulty with patients who have darker skin tones as the hair and skin colors may be too similar.
Hair type is also a factor to consider as coarse and rough hair will have more prominent follicles compared to fine and smooth hair. The ideal candidate for laser hair removal has fair skin and dark, coarse hair. Patients who do not fit this profile may experience more challenges with the procedure.
While recent advancements in laser technology have addressed some of these issues, pigmentation remains a slight challenge.
Hormonal imbalance
An ineffective Laser hair removal treatment may be caused by a hormonal imbalance. Hormonal conditions encourage hair growth, with testosterone being the most common hormone responsible for it. Men naturally have higher levels of testosterone, resulting in more hair growth, including facial hair. Women, on the other hand, have lower levels of testosterone, and their testosterone levels are controlled by estrogen, preventing excessive hair growth.
While laser hair removal might seem like a good option for women with excessive facial or body hair, a hormonal imbalance may prevent effective hair removal. If your hair growth is due to hormonal imbalance, laser hair removal might not work at all.
If you suspect a hormonal imbalance is causing your excess hair growth, it's best to get a medical evaluation before undergoing laser hair removal. Symptoms such as sudden hair growth, obesity or acne problems, and a family history of hirsutism are some predictors of excess hair growth due to hormonal imbalance.
Conditions such as Polycystic Ovarian Syndrome (PCOS), post-menopause, and family history of hirsutism are some of the causes of excessive hair growth that can render laser hair removal ineffective.
Growth Rate or Cycle
The rate and cycle of hair growth can affect the success of laser hair removal. The laser can only target hair follicles that are in the active growth stage, and it may take several treatments to target all follicles that were missed in previous sessions.
However, predicting a person's hair growth cycle is not always easy, as it can vary based on factors like hair color, density, coarseness, and location. If the timing of laser hair treatments does not align well with a person's hair growth cycle, then the treatments may not be as effective in targeting all necessary hair follicles.
Waxing before treatments
One of the main reasons why Laser hair removal may not be successful is due to waxing before treatments. While hair must be removed before every laser hair removal treatment, waxing is not an effective method. Waxing removes the entire hair follicle, leaving no pigment for the laser to target.
To achieve optimal results, it is crucial to follow the proper preparation protocol before laser hair removal treatment. Patients should shave the area to be treated 1-2 days before their appointment to ensure minimal hair remains, allowing the laser to absorb thoroughly into the hair follicle. Additionally, it is essential to avoid tanning, including sunless tanners, for at least one month before treatment to create contrast between the pigmentation of the hair and skin. Wearing sunscreen (SPF 50+) during the series of treatments when exposed to the sun is also highly recommended.